Dental Implants
**For a limited time only FREE DENTAL IMPLANT CONSULTATIONS**
Click here to book, Call us on 01208 813816,
Email us info@wadebridgedentalcare.co.uk, DM us on Facebook or Instagram
From £49/month or £2500
At last you can finally smile with confidence and finally eat the foods you have always wanted.
Do you find it difficult to eat your favourite foods, enjoy a juicy steak or bite an apple? Are you embarrassed to smile, or do you suffer from confidence issues because of missing or loose teeth? Are your dentures loose and do you worry about them falling out?
The good news is that we can help
We can offer a fixed solution with dental implants from one of the worlds bestselling dental implant companies Straumann.
The advantage for you is that you will regain your confidence with the smile you have always dreamed of. You would be able to eat your favourite foods without pain or discomfort and would be able to enjoy your life to the fullest.
What are the main benefits of dental implants?
Replace loose-fitting Dentures
Maintain Bone structure after tooth loss
Improve the appearance of your smile
Boost your confidence
Function and feel just like natural teeth
Improve chewing and speaking
Prevent Bone Loss
Long Term Solution
High success rate
Dental Implant treatment is a well established, safe and long-lasting teeth replacement solution. Replacing missing teeth is important in order to keep your teeth, gums and jawbone healthy. A face without teeth can change its shape and become saggy. Dental Implants help to retain your natural face structure and shape which can greatly boost your confidence and even make you look younger.
What is a dental implant?
A dental implant is a small but very strong post made from biocompatible metals or ceramics. Under local anesthetic, it is inserted into the jaw bone in place of the missing tooth root and acts as a support for the tooth. Dental implant therapy is today's long-term, state of the art restoration technique that can cover all indications. It has been scientifically tested and used in the last three decades by qualified dentists and surgeons worldwide.
Dental Implants placed by Andrew Taylor, Practice Principal at Wadebridge Dental

"Dental Implants were the right choice for me after having 2 teeth removed. Andrew explained the procedure and talked me through step by step in a kind and considerate way. Although early days so far i am very pleased with my new teeth and would recommend the practice to everyone" J.T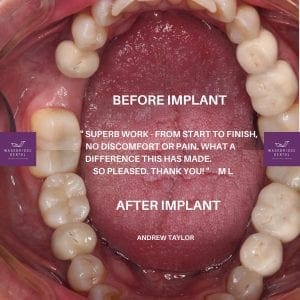 "Superb work – from start to finish, no discomfort or pain. What a difference this has made. So pleased. Thank you." ML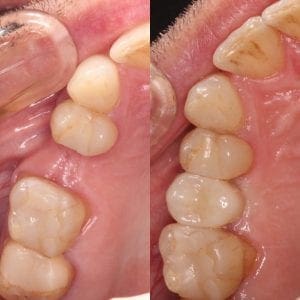 The procedure – from diagnosis to aftercare
Diagnosis and decision-making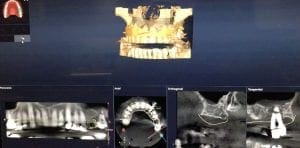 X-ray images and a CBCT scan are taken and after gathering the information, the possible treatment options are assessed. The advantages and disadvantages of the various solutions are openly discussed so that you are well-informed on every aspect of the procedure before making a decision.
Sufficient bone: an essential prerequisite. Sufficient bone must be present in order for implantation to go ahead. There are patients who have insufficient bone and require augmentation, for example if a tooth has been missing for a long time and the jaw has already receded.
Insertion of the implant
The dental implant is surgically inserted under local anesthesia. A temporary restoration may be placed on the implant at time of surgery for the healing stage.
Healing phase
The healing phase usually lasts between a couple of weeks and a few months. During this period, ideally, the bone around the implant grows and integrates with the implant surface – a process called osseointegration. Good oral hygiene is vital in the healing stage of the treatment. Once healed, this artificial root acts as a base for fixing individual crowns, multi-tooth bridges, or an entire dental prosthesis.
The restoration is put in place
The dental laboratory uses a 3D Digital scan of the implant site to produce the crown, bridge or denture.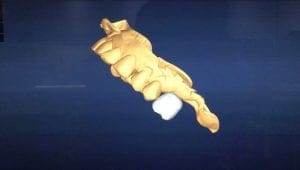 The dentist will place the restoration after the dental implant has healed.
Aftercare
Implants are an excellent option and investment in your health. With the right aftercare, they can last for a lifetime. For such a long-term success, taking care of your implant is important. As with natural teeth, implants require the same regular check-ups and conscientious oral hygiene. Once you follow these guidelines, your implants can be maintained for decades.
Are dental implants expensive?
Contrary to what you might think, conventional dentures are not always cost-effective. The initial layout for dental implant treatment varies on how many implants are needed and if bone augmentation is required. Other factors include the surgery itself, lab work, the prosthesis and the dentist's and dental technician's fees. A cost plan will be developed only when all of these aspects have been addressed, and in some cases, dental implants may be more economical in the long term.
Are there any risks when placing dental implants?
Implant therapy is not an experimental approach; rather it is a well-proven, state-of-the-art medical dental technique that has been scientifically tested and used for decades by dentists and surgeons worldwide. Depending on the condition of each patient, potential risk factors may vary. Bad oral hygiene or limited healing of the wound due to pre-existing medical conditions (for example diabetes and osteoporosis) may reduce the odds of the implant remaining in place. Since every surgical procedure carries potential risks, your dentist will evaluate whether dental implants are the option for you.
Is the surgery painful?
Dental implants are generally inserted under local anesthetic to help minimize discomfort during the operation. Patients experiencing any doubts about the condition of the implant site after the procedure, should make sure to consult a dentist.
Is there any age limitation to dental implant therapy?
It is possible to insert implants as soon as the jaw has stopped growing. Therefore, in young patients, dental implants can only be placed once their jaw bones are fully developed. At the other end of the spectrum, there is no age limit, given of course that the patient does not display any significant medical risk factors. This will be evaluated by the dentist.
How long do I have to wait for my final restoration?
After insertion of your implant, the bonding process (osseointegration) takes about 6-8 weeks. In this time, the implant reaches the stability needed for it to bear weight like a natural tooth. As always, healing times can vary depending on the individual condition and indication.
Are there any figures on satisfaction of people with implants?
Long-term surveys have shown that Straumann® Implants have very high survival rates.* Patients can count on reliable solutions as Straumann makes no compromises on quality. According to a survey carried out with 10,000 patients in Germany**, 66 percent of those questioned were "extremely happy" with their implant-supported restorations and 31% were "happy." Of patients with conventional restorations, only 42% claimed to be "extremely happy" while 44% said they were "generally happy".
* Blanes RJ, Bernard JP, Blanes ZM, Belser UC. A 10-year prospective study of ITI dental implants placed in the posterior region. I: Clinical and radiographic results. Clin Oral Implants Res 2007; 18:699-706 ** Riegl Survey 6
Are there any special aftercare measures required?
Impeccable oral hygiene is vital before an implant can be placed. After insertion, teeth need to be carefully looked after, irrespective of whether they are real or artificial. Diligent oral hygiene helps to ensure satisfactory results.
Is ceramic "better" than titanium?
Titanium is a biocompatible metal. This means it is non-toxic and well-tolerated by the body. Implants made from titanium bond very well to living bone and have been used for decades in the medical device industry. To this day, there has been no documented case of any allergic reaction to titanium. Because of these attributes, titanium dental implants can last for decades. If you are looking for a metal-free alternative, there are options with ceramic implants. They are made from high-strength ceramic and designed to achieve maximum functional and esthetic demands. In cases of thin or recessed gums, the implant will not shimmer through as it has the color of a natural tooth.
Prices
20_426_Wadebridge_Dental_Implant_Price_List