Book your FREE smile consultation (worth £300) and FREE 3D Digital scan today on our website or call us on 01208 813816
Clear, removable braces from £36/month
Removable, comfortable and virtually invisible way to straighten your teeth. The worlds leading clear aligner provider, having treated over 5 million patients worldwide, from adolescents upwards (no upper age limit!) Life can continue as normal, as the Invisalign system discreetly does its work.
A series of clear aligners are custom made for your teeth to move them little by little. Each aligner is worn for 1-2 weeks. They are removable giving you the flexibility to eat, drink, brush and floss during treatment as you want.
Invisalign allows you to view your 3D virtual results before you begin treatment so you can see how your teeth are expected to look when your treatment is complete using our itero scanner: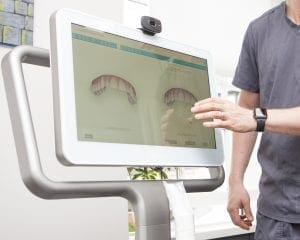 The total duration of treatment depends on the complexity. Typically from 3-18 months. Your dentist can provide you with more accurate information.
Comment From Patient Talia Smith who is mid treatment with Invisalign straightening:
"Highly recommend this if you're wanting to get your teeth straightened!
I'm currently 8 weeks into this treatment and can notice a massive difference already, the braces are clear so not noticeable and Wadebridge Dental Care and Kate have been amazing! I would never of considered braces before being introduced to Invisalign, the open day was great and gave me a good idea of what to expect and how much my teeth would change. Highly recommend" 26/9/19
Before and after:
From £1800