Testimonials
"I just wanted to thank you for the patience and diligent care I have received from you during my implants treatment and ongoing replacement crown.
I am so very pleased and happy with the results of my implants and so grateful for the excellent work you have done in restoring my teeth and peace of mind as a result.
The teeth in the permanent bridge implant look so natural and blend perfectly with the rest of my teeth and look and feel fantastic!
It has been a fairly lengthy process from beginning to end but well worth the wait.
I know I have not been an easy patient at times due to my personal history and extreme anxiety around dental treatment.
It has really helped that I have been treated with kindness and dignity when I was feeling so anxious. So I absolutely appreciate the kindness I have received and excellent care from yourself and every single member of staff who I have spoken to and been treated by:
the receptionists,the dental hygienists and implant nurses, other dentists on the staff and your excellent practice manager Penny who has helped me on endless occasions when I was in a state of extreme anxiety bordering on panic.
It also helped to be reassured and have my concerns and fears addressed at every stage, for example being able to come in at short notice and have the temporary plate adjusted to fit more comfortably.
The practise really does work as a team and every single member of staff seems very happy in their work and is always willing to listen to patient concerns and help in whatever way they can.
You must be very proud of what you have achieved in the practise and rightly so."
27/11/23
---
"On Monday this week Dr Jones removed my sons tooth. We have had a lot of problems recently with his tooth and several referrals and involvements made it a very stressful situation.
Dr Jones phoned me to discuss the situation and gave us some great advice and reassurance. He then agreed to remove the tooth and when he did so, he was so calm, kind and compassionate. Our son can get very shy and nervous but Dr Jones has 100% earnt his trust and he actually enjoys the dentist when he's seeing Dr Jones.
We would just like to thank Dr Jones for everything he did for Tom and the manner in which he carried out the work.
We are extremely grateful and would happily recommend Dr Jones to anyone." Best Wishes, Helen and Tim Chapman (Tom Chapman as well!)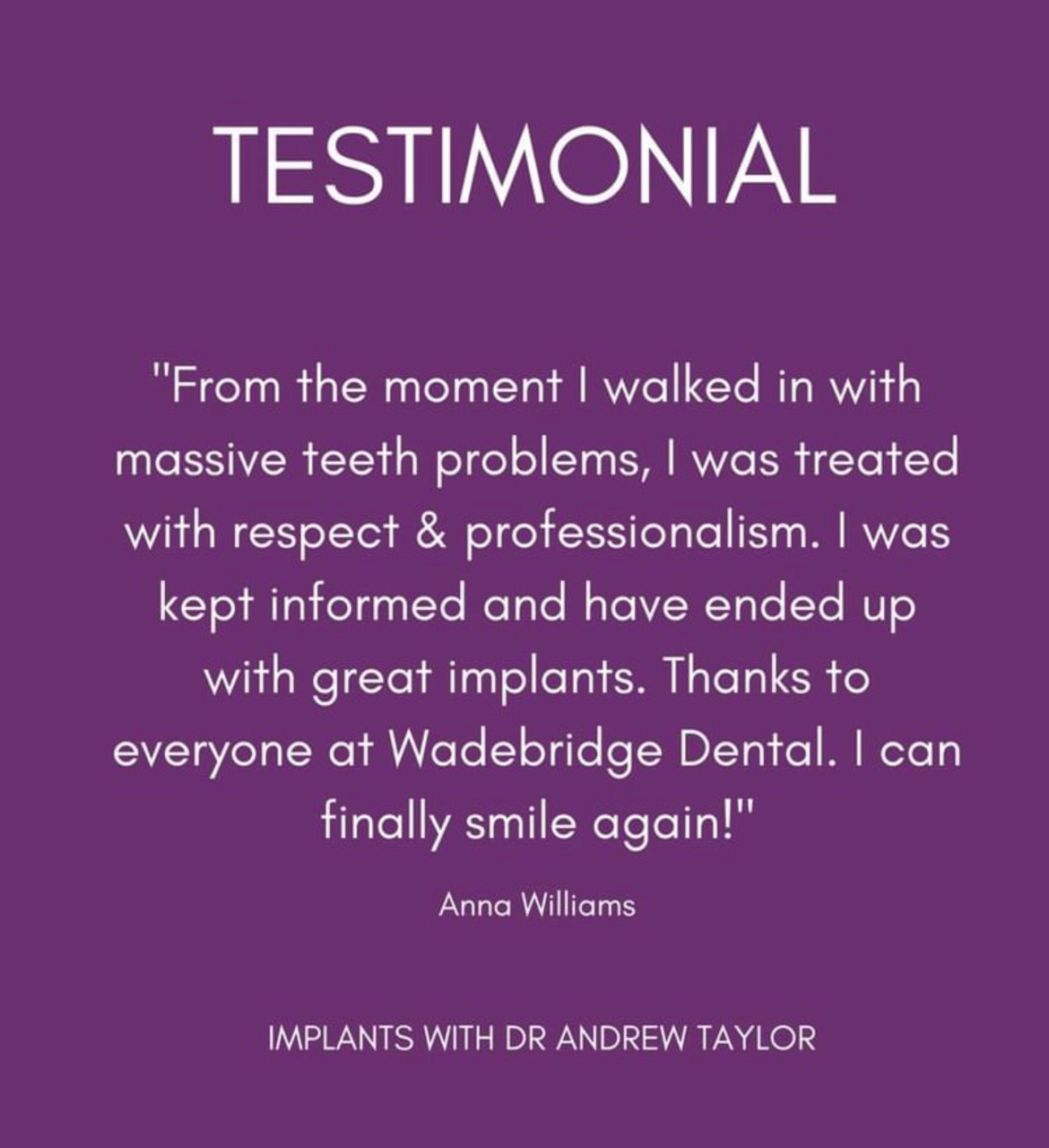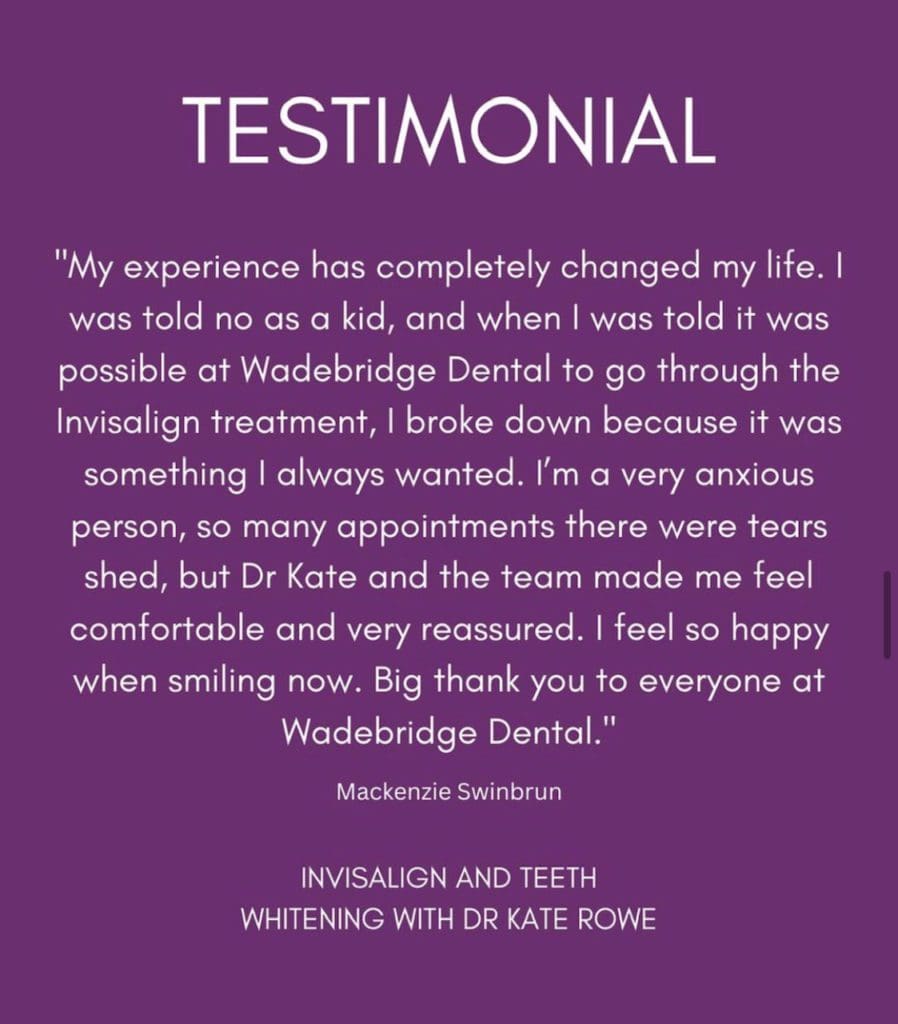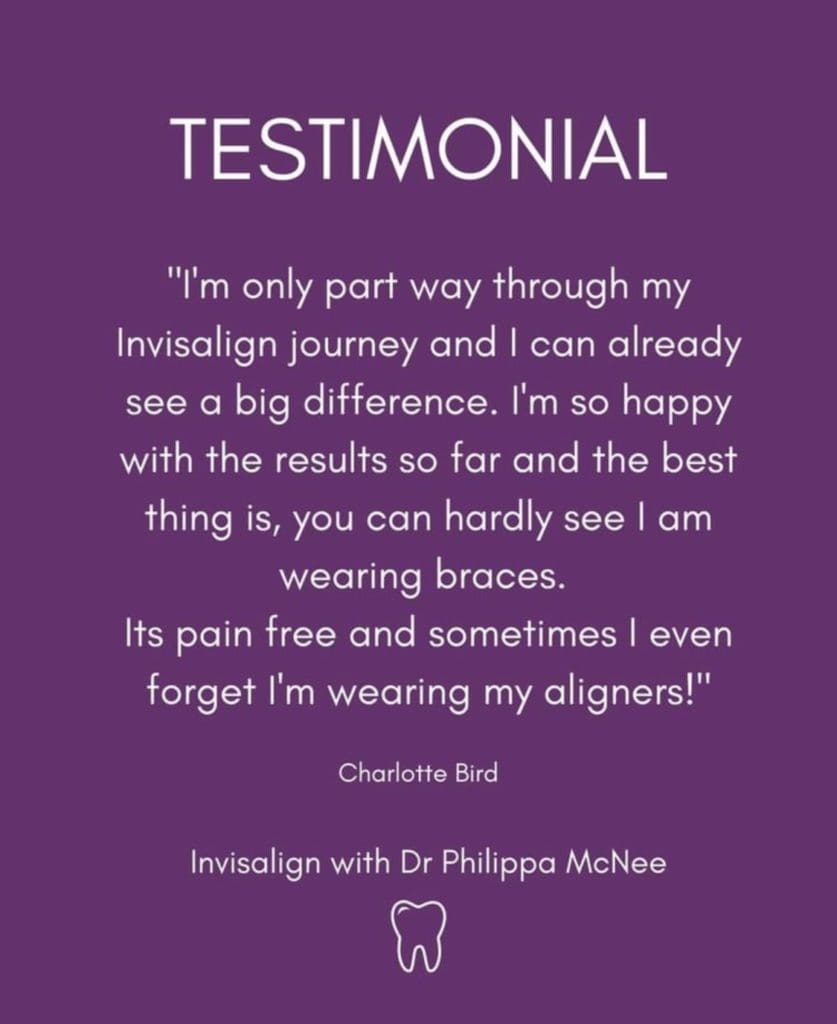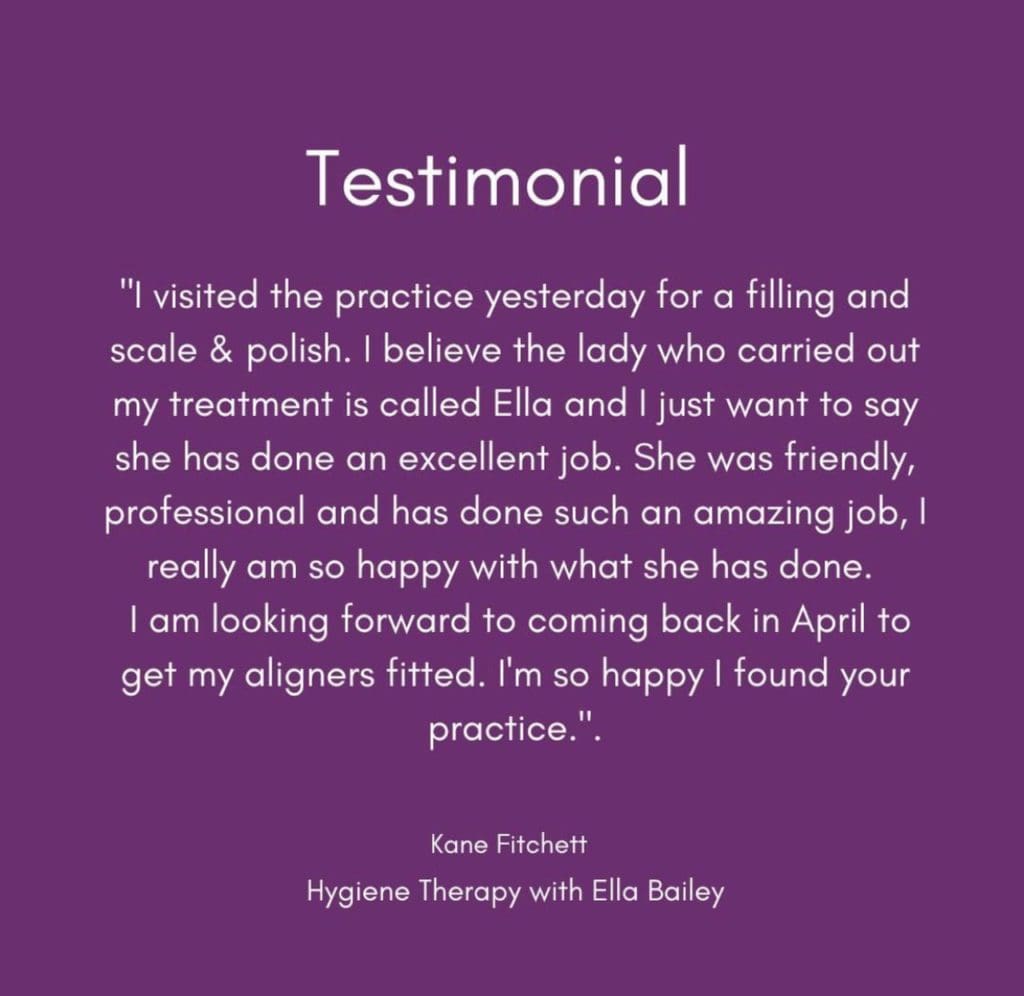 I visited the practice yesterday for a filling and scale & polish. I believe the lady who carried out my treatment is called Ella and I just want to say she has done an excellent job. She was friendly, professional and has done such an amazing job, I really am so happy with what she has done.
I am looking forward to coming back in April to get my aligners fitted. I'm so happy I found your practice.
Thanks again,
Kane fitchett 7/3/23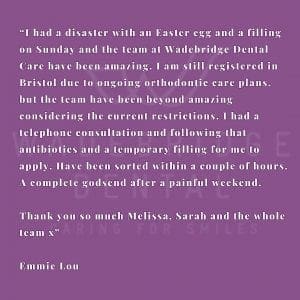 "Many thanks to all at Wadebridge for providing a brilliant service whilst I
am on holiday and fitting me in for emergency treatment. Particular thanks
to Katie and her technician for staying late and providing me with a
brilliant outcome in relation to fixing back my smile!!" Nigel Hammond 11/9/20
" After returning to Cornwall I was unable to find an NHS Dentist. However, after joining Wadebridge Dental I would never return to NHS treatment. Both my wife and father in law have also joined due to my recommendation" Richard Bowler 19/12/19
" As a patient who always arrives feeling extremely anxious, Andrew has always ensured that he takes time to explain everything throughout the appointment, therefore putting me at ease. Definitely a great dentist for those who are very nervous, to say the least!" Michelle Haseldine 18/7/17
" I needed emergency dental work while on my holiday. The care and treatment I received from Andrew and staff was fantastic, your kindness was much appreciated. thank you all so much" Patricia Bell
" Changed my life. fantastic I can smile again" L Pooley
" My planned treatment was explained carefully to me and i was given opportunities to question and discuss options" Valerie Wright
" I have complete confidence with all concerned about this practice. I'm so grateful for the professionalism and kindness shown to me" Mrs Jean Richards
" Andrew and his team provided me with a new smile; their work is superb as is that of their dental laboratory whose millimetric precision and excellent colour matching skills produced unrivalled end results. A superb, pain free and rewarding dental experience!" David Stewart
" As always clean, friendly and relaxed service by all. Stephen is professional and friendly, makes good eye contact and gives clear feedback" Debbie Marshall
" Matt was extremely kind and certainly put my mind at ease and did sort out my problem quickly and painlessly" V Marriott
"Absolutely 100% BRILL! No pain, everything explained and totally happy with treatment" Abi Waudby
" Always helpful and friendly very patient dentist too which helps when you have phobias and mental health issues" C Bray
" the best dentist I have ever had treatment from. The whole team are friendly, efficient and caring. I can visit my dentist with a smile on my face and I am still smiling when I leave having experienced no pain whatsoever" Jacqueline Sherriff
" great service as always. I sometimes get nervous but I felt relaxed" R Coleman aged
"Best dentist ever, good service and very friendly" Mrs S A Clay
"Thank you Matt Perry for taking the fear from visiting dentists, he was so very good to me and did a fab job on fitting a bridge. It looks good and i can smile again. This is the very best dental practice i have ever used. All the staff are lovely. It is a pleasure to visit my dentist. Thank you" Lily Perrini
"I would like not worry about another root filling. I am 73 and all my life I have always been so nervous when it's time to go to the dentist. Well today I had an hour root filling. Andrew was so very good to me. He took his time and talked me through every move and I had no pain at all" Mrs June Fuller
"The treatment I have received has been exemplary which has helped change my life. Treatment by Stephen Mccrory" Hazel Glover
"Amazing care and attention from Dr McCrory. He is brilliant at explaining and reassuring. The kids love him!" Jo Pope
"Excellent" Liz Aheam
"Very happy with service and friendly staff" Jackie K-George
"Hilary was brilliant she made me feel at ease. Was very nervous as have had a bad experience so much better this time." Lisa Morrish
"Amazing! Dr Needham is lovely! He also likes otty!" Emily Seevaratnam
"Excellent service. Thank you" Yvette McInnes-Slegg
"Andrew and his team make attending the dental appointments "almost" a pleasure! Listens and offers positive advice. Thank you, happy patient"
Irvene Trotman
"Brian is a very polite,warm man. Explained everything well. Good experience. Thanks very much"
Jon Copping
"Brian made me feel incredibly safe during the procedures, and made it clear that he was choosing the options that would benefit me most (after outlining all options) he was very thorough, used the appointment time effectively and put me at ease with his friendly nature. Thanks!" Anna Wilsher
"Wonderful as always" Steve Trotman
"Brian (wonderful dentist) saw my little girl today, was very good. Thank you" Joanne
"Brilliant, the staff are so kind and understanding" Anonymous
"Very pleased with all my treatment over the last 20 years, especially Andrew Taylor" Alex Robins