Damien McNee BDS Sheff 2007, MSc (Dental Implants) Pg Cert. (Law&Ethics) Pg Cert. (Restorative Dentistry)
GDC No. 114382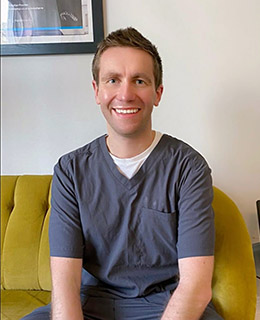 Damien graduated from the University of Sheffield in 2007 where he then worked in general practice for two years. Damien and his wife Philippa moved to Oxfordshire in 2009, and worked in private practice for the majority of this time. They have recently relocated to Cornwall with their two young boys, ready for a new challenge.
Keen to enhance his clinical skills, Damien completed a Masters degree in Implant Dentistry from the University of Warwick in 2014. In 2017 he undertook a post graduate certificate in Dental law and Ethics underlining his commitment to excellent patient communication and consent processes. In 2019 Damien graduated with a certificate in restorative dental practice, which has enhanced his skills in providing the latest techniques for his patients. He enjoys all aspects of clinical dentistry but particularly providing tooth coloured fillings and re-building worn down teeth. Damien particularly enjoys providing endodontic treatments (root-canal treatments) for his patients and prides himself on his thorough and pain-free approach to managing these cases. Alongside his clinical care, Damien writes articles for the British Association of Private Dentistry and has had an article published in a peer reviewed dental journal.
Damien enjoys achieving the best results he can in all aspects of clinical care, making sure his dentistry stands the test of time, and helping patients make the best decisions on their care.
Damien is married to Philippa and they have two young sons, William and Henry. In his spare time he enjoys running, all forms of cycling, football (playing and watching…occasionally at the same time!) cooking and writing.
Follow him on Instagram and see some examples of his clinical work!
@growthmindsetdentistry
Damien is also offering
Complimentary Implant Consultations
Complimentary Smile Makeover Consultations
Complimentary Teeth Whitening Consultations