8 Point Face Lift
Facial Rejuvenation Without the need for Surgery
The 8-point facelift is a comprehensive, non-surgical method offered by Dr Kate Rowe.
The concept of restoring volume and structure in the face using dermal fillers to give the skin support is well established.
What are the 8 Points?
Our diagram illustrates the 8 separate injection points treated in the 8-point facelift: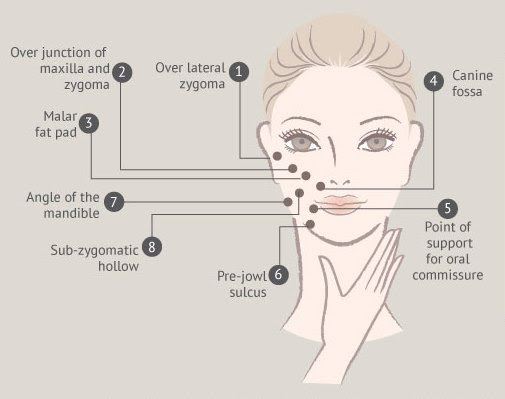 Lifting Effect with Dermal Fillers
The 8-point facelift creates a lifting effect using the smallest amount of dermal filler to achieve natural looking results.
Results of 8-Point Facelift
looks and feels very natural
not a 'fake' or 'over-done' look
enhances the overall shape of the face
lifts the structure and dynamics of the face
also smooths the skin, reducing lines and wrinkles
gives a general brightening effect
reduces dark circles or under-eye hollows
offers improvement in the jowl and jawline.
helps skin look younger for longer
Areas Encompassed Within 8-Point Facelift
cheek structure, volume and definition
tear troughs, which can create a tired appearance
nose to mouth contours
downward smile, sad face
looseness in the jowl area
lack of definition to jawline